There really isn't a better fictional couple than Anne and Gilbert. From enemies and rivals to kindred spirits... This story is all about finding true love and it's ultimately better than all the fairy tales and sensational drama in the world.
The moment when they meet... and Gilbert winks at Anne...
The infamous "Carrots" scene when Anne smashes her slate on Gilbert's head... oh, excuse me... it was his slate. This was truly "love at first slate". I've always thought it hilarious how he looks down as she picks up the slate and follows the slate with his eyes until she brings it down on his head...
When Anne takes Josie's dare to walk on the ridgepole of Moody's kitchen roof... and Gilbert is so adorably worried.
When Anne gets stage fright and can't begin her recitation at the White Sands Concert but Gilbert is there to encourage her... notice how he nods reassuringly? And then he encores her and gives her a standing ovation.
When Gilbert gives up the Avonlea school for Anne so she can stay at home... and then he touches her hair and calls her Carrots again 🥰 (Notice the absence of the slate) This is the point in the books where Anne suddenly... for one moment... realizes that she loves him... but then forgets again.
For a moment Anne's heart fluttered queerly and for the first time her eyes faltered under Gilbert's gaze and a rosy flush stained the paleness of her face. It was as if a veil that had hung before her inner consciousness had been lifted, giving to her view a revelation of unsuspected feelings and realities. Perhaps, after all, romance did not come into one's life with pomp and blare, like a gay knight riding down; perhaps it crept to one's side like an old friend through quiet ways; perhaps it revealed itself in seeming prose, until some sudden shaft of illumination flung athwart its pages betrayed the rhythm and the music, perhaps . . . perhaps . . . love unfolded naturally out of a beautiful friendship, as a golden-hearted rose slipping from its green sheath.
Then the veil dropped again; but the Anne who walked up the dark lane was not quite the same Anne who had driven gaily down it the evening before. The page of girlhood had been turned, as by an unseen finger, and the page of womanhood was before her with all its charm and mystery, its pain and gladness. ~Anne of Avonlea
When Gilbert goes shouting about Anne's accomplishments and she gets so mad at him...
When Anne says she would defy anyone who tried to make her fall in love with him... and Gilbert so obviously accepts the challenge...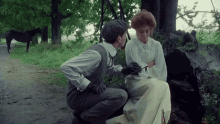 When Gilbert tries to give Anne advice about her story and she doesn't appreciate his efforts...
When Gilbert proposes... "Anne, I've loved you for as long as I can remember. Please say yes, I need you." (tissues please... I'm crying harder than Anne.)
When Anne runs into Gilbert unexpectedly in Kingsport and he tells her he's engaged to Christine... but then he says "Don't forget me." And he's crying!!!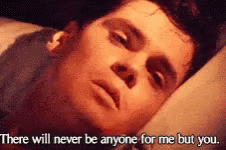 When Gilbert is sick and he tells Anne the most romantic words in the history of romance... "There isn't going to be any wedding. I called it off... there will never be anyone for me but you."
"I don't want diamond sunbursts and marble halls. I just want you."
I don't even like the third movie... but this moment! When Anne and Gilbert are reunited after searching for each other so long... and Gilbert thinks he's dreaming when he first sees her 😭🥰
I'm not going to even think about getting married until/unless I find someone who loves me the way Gilbert loves Anne.
Please excuse me while I go have a good cry... and then binge on my Anne books.
Juliette